If you're planning a trip to Pattaya, Thailand and want to make the most of your vacation, this guide is for you! We've compiled a list of 10 exciting activities to do during your visit, ensuring you'll have a memorable time. From adventure activities to cultural experiences, vibrant nightlife, and delicious culinary delights, there's something for everyone in Pattaya.
Nature and Culture In Pattaya
Experience the Thrill of Pattaya's Adventure Activities
Pattaya is a city that offers a plethora of adventure activities for adrenaline junkies. From flying through the sky with ziplining to diving into the deep with scuba diving, there's something for everyone in Pattaya. In this article, we'll explore some of the most exciting adventure activities that you can try in Pattaya.
Fly Through the Sky with Ziplining
One of the most popular adventure activities in Pattaya is ziplining. It's an incredible experience that allows you to soar above the lush greenery and stunning scenery of the tropical forest. The adrenaline rush that you get from ziplining is unmatched, and it's a must-try activity for all ages. You'll be hooked from the moment you take your first leap of faith and feel the wind rushing past your face.
There are several ziplining courses in Pattaya, and each one offers a unique experience. The courses vary in length and height, so you can choose one that suits your level of adventure. Some of the best ziplining courses in Pattaya include Flight of the Gibbon, Treetop Adventure Park, and Canopy Adventures.
Dive into the Deep with Scuba Diving
Pattaya is a haven for scuba diving enthusiasts. The city has several dive sites that offer a glimpse into the breathtaking diversity of marine life. From coral reefs to seahorses and rays, you'll witness some of the most beautiful creatures in the world.
Experienced divers can plunge right in, while novice divers can receive expert training from the many diving schools in Pattaya. You'll learn everything from the basics of scuba diving to advanced techniques that will help you explore the depths of the ocean. Some of the best dive sites in Pattaya include Koh Rin, Koh Sak, and Koh Krok.
Conquer the Waves with Surfing
Surfing is another popular adventure activity in Pattaya. The city has several fantastic surfing spots located just a few kilometers from the city center. Jomtien Beach and Pattaya Beach are among the best surf spots in Pattaya.
Lessons and equipment rentals are also available for beginners. You'll learn everything from how to paddle and catch a wave to how to stand up on the board. Surfing is a thrilling experience that will test your balance and coordination. It's a must-try activity for anyone who loves the ocean and wants to conquer the waves.
In conclusion, Pattaya is a city that offers a wide range of adventure activities for all ages. From ziplining to scuba diving and surfing, there's something for everyone. So, pack your bags, grab your gear, and get ready to experience the thrill of Pattaya's adventure activities!
Discover Pattaya's Rich Culture and History
Explore the Sanctuary of Truth
If you're interested in exploring cultural heritage, then the Sanctuary of Truth is worth visiting in Pattaya. The structure is a magnificent work of art and craftsmanship. It is an all-wood carving exhibition showcasing various traditions and cultures of the East. The grandeur and beauty of the temple will captivate you, making it a perfect spot for taking photos and learning about the local culture.
Visit the Nong Nooch Tropical Garden
The Nong Nooch Tropical Garden is a stunning botanical garden, spanning over 500 acres, making it one of the most impressive botanical gardens in Southeast Asia. Visitors can witness a wide range of flora and fauna here, and the garden hosts cultural performances like traditional Thai dances, providing an excellent cultural experience for visitors.
Immerse Yourself in the Pattaya Floating Market
The Pattaya floating market is a unique shopping experience that you can't miss. The market has vendors selling everything from traditional Thai handicrafts, clothes, and jewelry to local street food. You can also rent a boat to float from stall to stall, discovering the wonders of the market in the process. From cultural experiences to shopping and dining, the Pattaya floating market has it all.
Food and People
Enjoy Pattaya's Vibrant Nightlife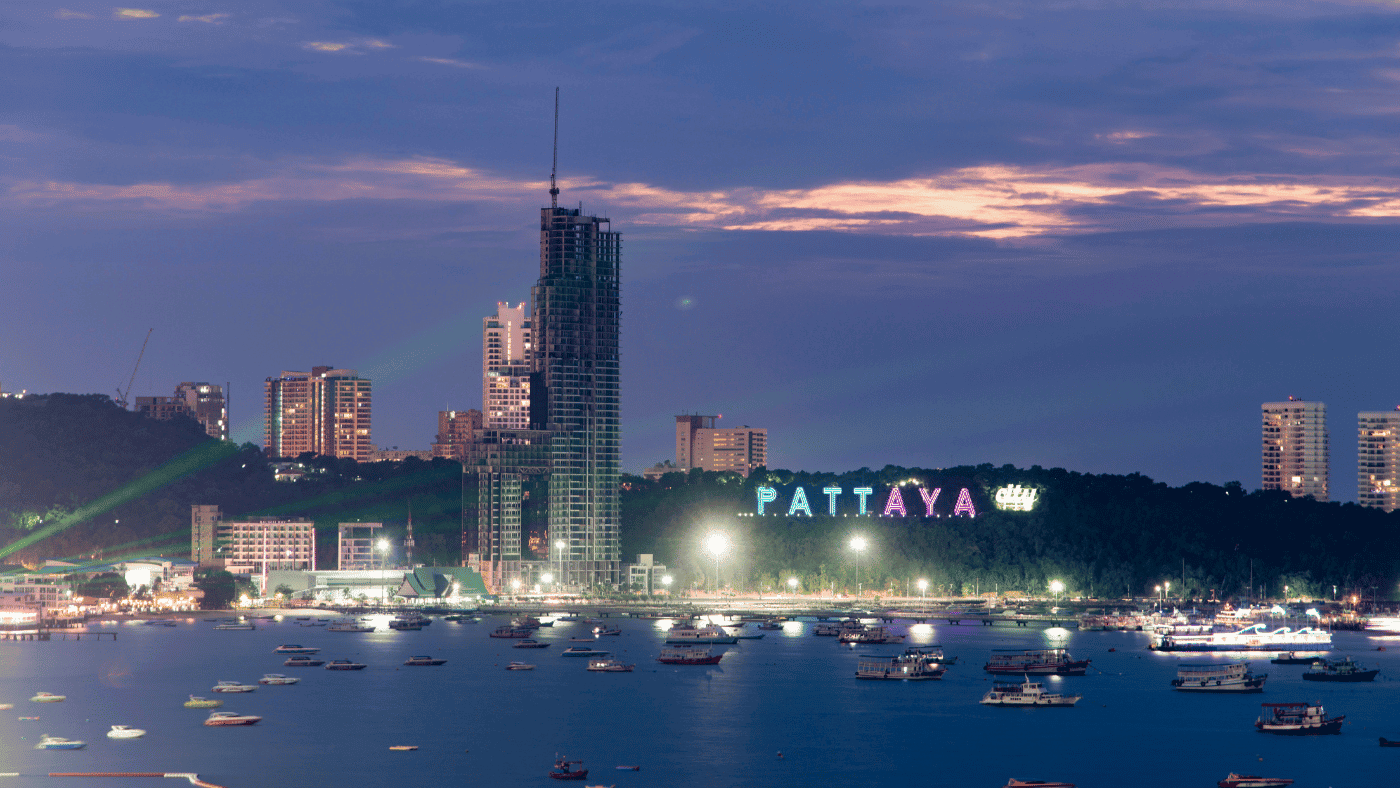 Dance the Night Away at Famous Clubs
Pattaya is renowned for its vibrant nightlife, and there are several clubs to choose from. A trendy spot is the Walking Street, which is vibrant with bars, nightclubs, and discotheques that come alive after dark. You'll find a range of music styles, from jazz and blues to techno and trance. It's a perfect spot to enjoy a fun night out with friends or loved ones.
Experience the Unique Cabaret Shows
For something a little different, Pattaya's cabaret shows are a must-watch. The Alcazar Cabaret Show in Pattaya is the most popular. The performers don't only dance but also sing and dress up in vibrant and colorful outfits, adding an element of fun and excitement to the performances. It's a great experience for those looking for a little extra entertainment in their night out.
Relax at Beachfront Bars and Restaurants
If you're looking to unwind at night and have a good meal, Pattaya has a range of beachfront bars and restaurants to offer. These spots provide the perfect ambiance to enjoy a good meal and relax while taking in the beautiful ocean view and the sound of waves crashing against the shore.
Indulge in Pattaya's Culinary Delights
Savor Authentic Thai Cuisine
Pattaya is famed for its delectable cuisine, and it's the perfect location to try authentic Thai cuisine. From street food to fine dining, Pattaya has it all. Try out the unique flavors of the Northeastern cuisine served at Somtum Der, or the creative vegetarian dishes from the Rasayana retreat.
Sample International Flavors at Fine Dining Restaurants
If international cuisine is more your style, Pattaya has plenty of exquisite fine-dining options. From Indian and Japanese to European and Mediterranean cuisine, Pattaya has a restaurant to cater to every palate. Casa Pascal is one notable spot that offers fine dining options featuring the best of European cuisine.
Enjoy Fresh Seafood at Local Markets
Finally, seafood lovers must make a visit to Pattaya's local markets. Pattaya is known for its fresh seafood, which is available throughout the day at local markets. Whether you want to grill your fish or have it prepared in Thai-style curries, local markets like the Naklua fish market have it all. It's a culinary experience you won't forget.
There you have it, folks – 10 exciting things to do in Pattaya for a memorable vacation. Pattaya is a remarkable destination with so much to offer. With these amazing experiences, you're bound to have a trip of a lifetime.