Krabi, with its stunning landscapes and diverse range of activities, is a must-visit destination for any traveler in Thailand. Located in the southern part of the country, Krabi offers a perfect mix of natural beauty, adventure, and culture, making it an ideal location for travelers seeking to explore Thailand's richest treasures. Whether you're an adventurer, a nature lover, or a culture buff, Krabi has something to offer to everyone. Here are the 10 best things to do in Krabi!
Spend Some Time With Krabi's Nature
Explore the Natural Wonders of Krabi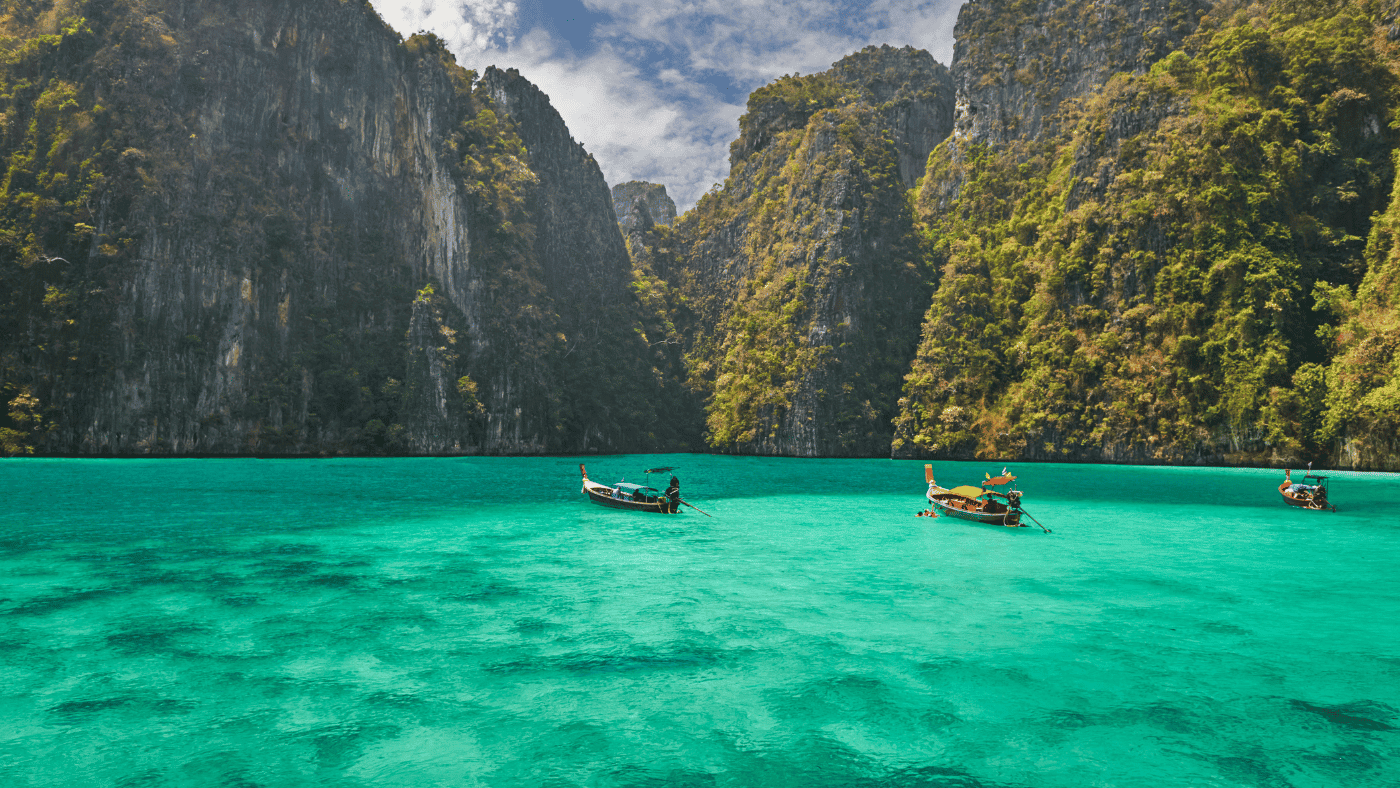 Krabi is a province in southern Thailand that boasts some of the most beautiful natural attractions in the country. From crystal clear emerald pools to towering limestone cliffs, Krabi has something for everyone. Here are some of the must-see natural wonders in Krabi:
Visit the Emerald Pool and Hot Springs
The Emerald Pool is a true gem of Krabi. Located in the heart of Khao Phra Bang Khram Nature Reserve, this natural pool is surrounded by lush jungle and towering limestone cliffs. The water in the pool is crystal clear and has a beautiful emerald green color, hence the name. The water is also warm, making it the perfect temperature for a relaxing dip. After your swim, don't forget to check out the nearby hot springs, which are known for their therapeutic properties.
Trek through the Thung Teao Forest Natural Park
The Thung Teao Forest Natural Park is a nature lover's paradise. This lush jungle is home to a diverse range of flora and fauna, including rare and endemic species that can't be found anywhere else in the world. One of the highlights of the park is the Blue Pool, a natural wonder with crystal clear water that shines like a sapphire. The trek through the park is challenging but rewarding, and you'll be rewarded with stunning views and a true sense of adventure.
Discover the beauty of Railay Beach
Railay Beach is one of the most famous beaches in Krabi, and for good reason. This secluded beach is surrounded by towering limestone cliffs that rise dramatically from the sea, creating a breathtaking backdrop for sunbathing and swimming. The beach is accessible only by boat, which adds to its charm and secluded ambiance. While here, be sure to take a kayak out on the water and explore the hidden coves and caves along the coast.
Climb the Tiger Cave Temple
The Tiger Cave Temple (Wat Tham Sua) is a religious site that is also a popular tourist attraction. The temple is located on top of a hill, and visitors must climb 1,272 steps to reach the top. The climb is challenging, but the views from the top are absolutely breathtaking. You'll be rewarded with panoramic views of the surrounding jungle and mountains, as well as a sense of accomplishment for completing the climb.
Overall, Krabi is a must-visit destination for anyone who loves nature and adventure. With its stunning natural attractions and sense of adventure, Krabi is sure to leave a lasting impression on anyone who visits.
Enjoy a Relaxing Krabi Island Getaway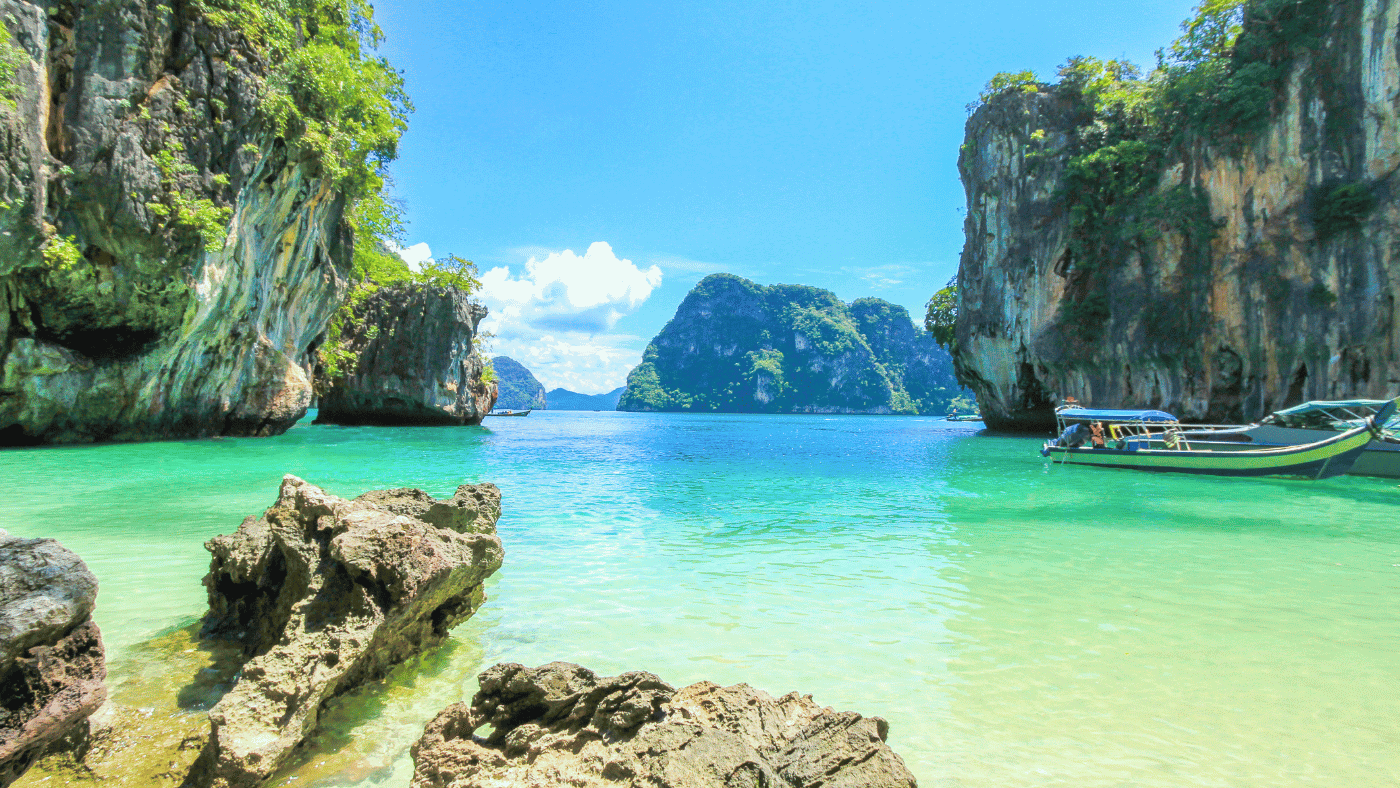 Take a day trip to the Phi Phi Islands
The Phi Phi Islands are a world-renowned destination, known for their crystal clear water, colorful marine life, and secluded beaches. Take a day trip to Phi Phi Islands to explore its natural treasures, go snorkeling, and enjoy a relaxing day out in paradise.
Discover the secluded paradise of Koh Lanta
Koh Lanta is an archipelago of islands with white sandy beaches, crystal clear water, and breathtaking views. As one of the less crowded destinations in Krabi, it offers a quieter and more relaxed atmosphere. Visit Koh Lanta to explore its natural beauty, go snorkeling or scuba diving, and enjoy the laid-back island lifestyle.
Experience the charm of Koh Poda and the Four Islands
Koh Poda and the Four Islands are a popular day trip destination from Krabi, known for their stunning landscapes and crystal clear water. Take a long-tail boat to explore the beautiful islands, go snorkeling, and soak up the breathtaking scenery.
Enjoy with People and Culture
Experience Krabi's Adventure Activities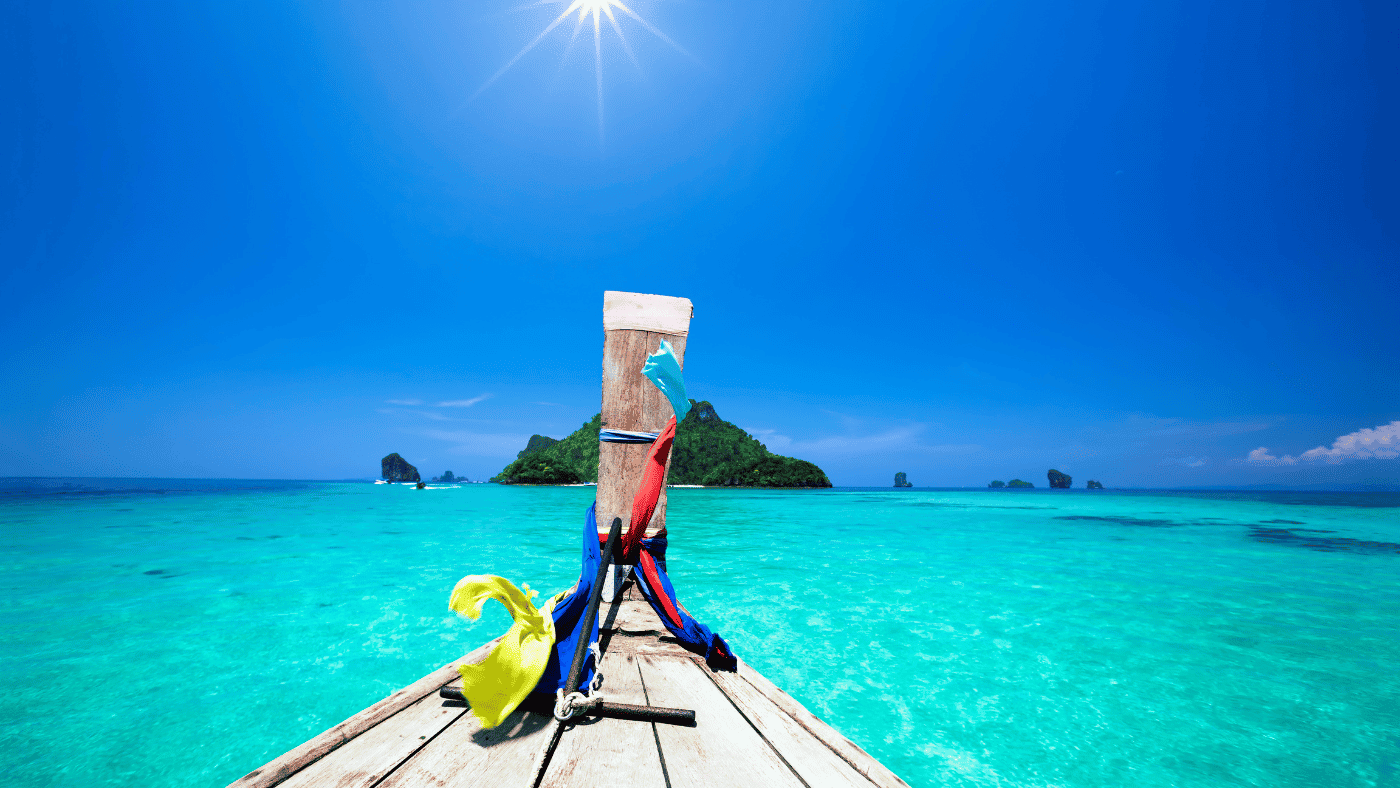 Go rock climbing at Tonsai Beach
For adventure enthusiasts, Tonsai Beach is a world-renowned rock climbing location. Here, you can test your limits and climb cliffs at all skill levels, from beginner to expert. The unique landscape and stunning views make it the perfect place for a thrilling day out.
Take a snorkeling or scuba diving trip
Krabi is a world-class destination for snorkelers and scuba divers, with numerous dive sites that are easily accessible from the main beaches. The marine life here is incredibly diverse and includes exotic species such as turtles, reef sharks, and colorful tropical fish.
Embark on a sea kayaking adventure
Kayaking is an excellent way to explore the natural treasures around Krabi. Rent a kayak or join a guided tour to explore the stunning mangrove forest, hidden lagoons, and the breathtaking coastline. Along the way, you can also spot a diverse range of wildlife, including monkeys, eagles, and kingfishers.
Immerse Yourself in Local Culture
Explore Krabi Town and its markets
Krabi Town is the cultural hub of the region, where visitors can immerse themselves in the local way of life. Take a stroll through the bustling markets to discover traditional handicrafts, colorful textiles, and mouth-watering local delicacies.
Visit the Wat Kaew Korawaram Temple
The Wat Kaew Korawaram Temple is one of the most beautiful temples in Krabi, known for its intricate details and striking design. Visiting this temple is a great way to immerse yourself in the local culture, learn about the region's history, and appreciate the art of Thailand's ancient temples.
Learn to cook Thai cuisine at a cooking class
Thai cuisine is among the world's most popular, and Krabi offers a range of cooking classes where you can learn to prepare your own delicious Thai dishes. These classes offer an immersive experience in Thai culture, where you can mingle with local people, learn about traditional ingredients, and develop your cooking skills.
In conclusion, Krabi offers a multitude of things to do and see for any type of traveler. With its natural beauty, adventure activities, and rich culture, Krabi is a must-visit destination that will leave you with unforgettable memories.