Located in Northern Thailand, Nan is a hidden gem that boasts a rich history, beautiful scenery, and a vibrant local culture. Whether you enjoy exploring ancient ruins, trekking through lush jungle, or indulging in delicious local cuisine, Nan has something for everyone. Here are 10 fun things to do in Nan, Thailand that will make your visit unforgettable.
What Are the Things You Can Do in Nan?
Explore the Rich History of Nan
Nan is a province in Northern Thailand that is steeped in history and culture. It is a place where ancient traditions and modern ways of life coexist in harmony. If you are looking to delve deeper into the fascinating history of this region, there are plenty of places to visit and things to see. Here are just a few suggestions:
Visit the Nan National Museum
The Nan National Museum is the perfect place to start your journey into the province's past. The museum is housed in a beautiful colonial-style building that was once the residence of a local governor. Here, you can discover exhibits that showcase the rich culture and traditions of the Nan people, including intricate textiles, handcrafted pottery, and ancient Buddhist relics. You can also learn about the region's role in the opium trade, and the impact of colonialism on the local economy.
One of the most interesting exhibits in the museum is the collection of traditional costumes worn by the Nan people. These costumes are incredibly intricate and colorful, and each one tells a unique story about the wearer's social status, occupation, and beliefs. You can also see examples of traditional musical instruments, weapons, and household items.
Discover the Ancient City of Pua
Pua is a small town located in the mountains of Nan province. It is an ancient city that dates back to the 18th century, and is one of the best-preserved examples of traditional Northern Thai architecture. Here, you can stroll through the narrow streets of the old town, admire the elegant teak houses, and explore the remains of the old city walls and gates.
One of the most impressive buildings in Pua is the historic Wat Phrathat Chang Kham. This peaceful temple offers stunning views of the surrounding mountains, and is home to a beautiful golden chedi that is said to contain relics of the Buddha. The temple complex also includes a museum that displays artifacts from the region's rich history.
Admire the Murals at Wat Phumin
Wat Phumin is a stunning temple located in the heart of Nan town. It features some of the most intricate murals in Thailand, which cover the walls and ceiling of the temple. The murals depict scenes from local life, Buddhist legends, and Hindu deities, and are a testament to the skill and creativity of the artists who created them.
One of the most famous murals in the temple is the "Whispering Wall", which depicts a group of people whispering secrets to each other. If you stand at one end of the wall and whisper, the person at the other end can hear you perfectly, even though the wall curves away from them.
Another interesting feature of the temple is the "Four Faces Buddha", which is a statue of the Buddha with four faces, each facing a different direction. This is a rare and unusual representation of the Buddha, and is considered to be a powerful symbol of protection and good luck.
Overall, Nan province is a fascinating destination for anyone interested in history, culture, and art. Whether you choose to visit the Nan National Museum, explore the ancient city of Pua, or admire the murals at Wat Phumin, you are sure to be captivated by the rich and vibrant history of this beautiful region.
Immerse Yourself in Nan Nature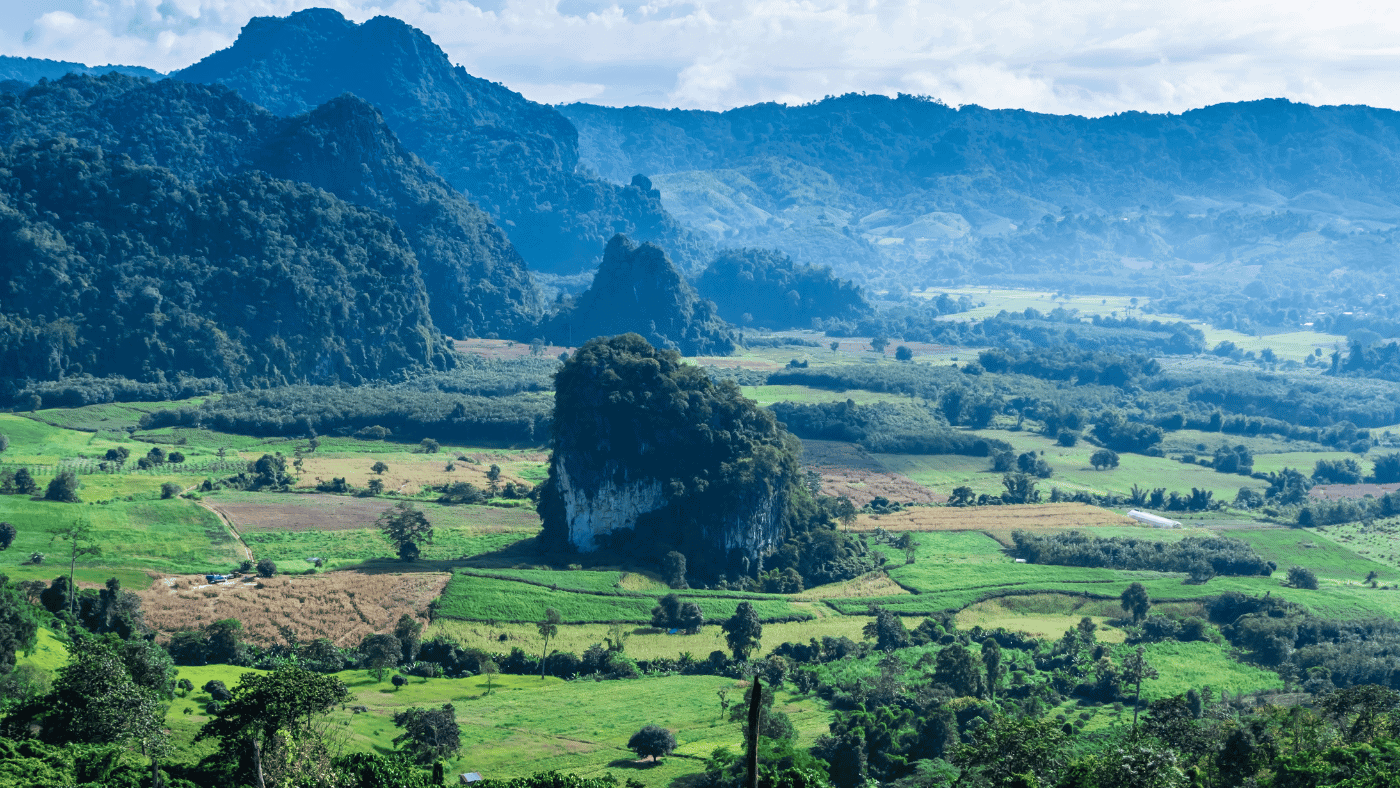 Trek through Doi Phu Kha National Park
Doi Phu Kha National Park is a vast wilderness that is home to a wide variety of flora and fauna. Here, you can trek through lush jungle, past cascading waterfalls, and over rugged mountains. Keep an eye out for rare bird species, monkeys, and even wild elephants. The park also offers a range of camping and hiking options for those who want to stay overnight.
Relax at Sapan Waterfall
Sapan Waterfall is a serene spot that offers the perfect place to unwind and soak up the beauty of nature. The cool, clear water cascades down a series of rocks and pools, creating the perfect place for a refreshing swim. There are also plenty of shaded picnic areas where you can enjoy a packed lunch.
Witness the Beauty of Tham Pha Tup Forest Park
Tham Pha Tup Forest Park is a hidden gem that is home to stunning limestone cliffs, mysterious caves, and crystal-clear streams. Take a guided tour to explore some of the most breathtaking spots, including Pha Tup Cave, which features a stunning waterfall inside.
Experience Nan Local Culture
Stroll through the Nan Walking Street Market
The Nan Walking Street Market is a vibrant hub of local culture and activity. Every Saturday evening, the streets come alive with the aroma of delicious street food, colorful textiles, and handmade crafts. You can sample local delicacies, listen to traditional music, and chat with friendly locals.
Participate in a Traditional Thai Cooking Class
Thai cuisine is world-renowned for its complex flavors and unique spices. Why not take a cooking class and learn how to make some of your favorite dishes? There are plenty of classes available in Nan that offer hands-on instruction, and the chance to taste your creations at the end of the lesson.
Attend a Local Festival or Event
Nan is home to a range of fascinating festivals and events throughout the year. From the Yi Peng festival, which features a stunning display of lanterns floating into the night sky, to the colorful Loy Krathong festival, which celebrates the Thai tradition of floating small rafts made of leaves on water, there is always something exciting happening in this vibrant province.
Indulge in Nan's Culinary Delights
Taste Authentic Northern Thai Cuisine
Nan is famous for its mouthwatering Northern Thai cuisine, which features a range of bold flavors and exotic spices. Don't miss out on dishes like Khao Soi, a spicy curry noodle soup, or Sai Oua, a spicy Northern Thai sausage. You can find these and other local specialties at street stalls and restaurants throughout the province.
Savor Local Street Food
Street food is a staple of Thai cuisine, and Nan is no exception. Wander through the streets and alleys of the province, and you'll find a range of vendors selling everything from crispy fried chicken to sweet sticky rice desserts. Don't be afraid to try something new and adventurous!
Enjoy a Riverside Dining Experience
There's nothing quite like dining by the river, and Nan offers some of the most scenic spots for a riverside meal. Choose from a range of restaurants and cafes that offer stunning views of the Nan River, and enjoy dishes like grilled river fish, or spicy shrimp salad.
With so many fun and exciting things to do, Nan is a must-visit destination for anyone traveling to Northern Thailand. From its rich history and culture, to its breathtaking natural scenery and delicious cuisine, this province has something for everyone.