Phuket is a popular tourist destination in Thailand, known for its pristine beaches, rich culture and vibrant nightlife. Here, we'll take you on a journey through the 10 amazing things you can do in Phuket that you simply don't want to miss.
Explore the Phuket's Beautiful Beaches
As an island destination, Phuket is blessed with some of the most beautiful beaches in Southeast Asia. Whether you're looking to relax on the sand or dive into the crystal-clear waters, Phuket has something for everyone.
Patong Beach
Patong Beach is easily one of Phuket's most popular beaches, known for its buzzing atmosphere and excellent facilities. It stretches over 3.5 km and is lined with restaurants, bars, and shops. You can also indulge in some water sports, such as jet skiing and parasailing.
For those who love to party, Patong Beach is the place to be. The beach comes alive at night, with neon lights and music filling the air. You can dance the night away at one of the many nightclubs or bars that line the beach.
Kata Beach
Kata Beach is a quiet and peaceful beach located on the west coast of Phuket. It offers stunning views of the Andaman Sea and is perfect for swimming and sunbathing. The clear waters make it an excellent spot for snorkeling, too.
For those who love to surf, Kata Beach is the perfect spot. The waves are perfect for beginners, and there are plenty of surf schools where you can take lessons. If you're looking for a more relaxing activity, take a stroll along the beach and enjoy the stunning views.
Karon Beach
Karon Beach is another wonderful beach that lends itself perfectly to all kinds of water sports. Stretching for 4 kilometers, it's an ideal place for families and couples. The beach offers some of the most breathtaking sunsets, so make sure you stick around for an unforgettable view.
If you're looking for a more cultural experience, take a short walk from Karon Beach to Wat Suwan Khiri Khet, a beautiful temple that is over 100 years old. The temple is surrounded by lush greenery and offers stunning views of the beach and the Andaman Sea.
Nai Harn Beach
If you're looking for a quiet and peaceful getaway, then Nai Harn Beach is the perfect spot. The beach is surrounded by lush greenery, and it's crystal-clear waters make it an excellent place for swimming. Plus, there are plenty of restaurants nearby where you can grab a bite to eat.
For those who love to hike, Nai Harn Beach is the starting point for a beautiful hike up to the Phromthep Cape Viewpoint. The hike takes you through lush jungle and offers stunning views of the Andaman Sea and surrounding islands. It's the perfect way to experience the natural beauty of Phuket.
With so many beautiful beaches to explore, Phuket is the perfect destination for beach lovers. Whether you're looking for a party atmosphere or a quiet getaway, there's a beach for everyone.
Discover the Phuket's Rich Culture and History
Phuket is steeped in history and has a rich cultural heritage. In this section, we'll introduce you to some of the most iconic landmarks in the area where you can learn about its fascinating past.
Visit the Old Phuket Town
Old Phuket Town is a unique blend of Chinese and European architecture, with grand mansions and historical buildings. It's an excellent spot for walking tours, and you can soak up the atmosphere whilst enjoying some of the fantastic street food that's on offer.
Explore the Chalong Temple
The Chalong Temple is a highlight for anyone visiting Phuket. The temple is a beautiful and serene complex, and it's the largest and most revered Buddhist temple on the island. Take a stroll around the beautiful grounds and marvel at the intricate carvings and peaceful surroundings.
Learn at the Thai Hua Museum
The Thai Hua Museum is located in the heart of Phuket Town. It's an excellent place to learn about the history and culture of the area, with exhibits detailing the Chinese heritage of Phuket. With amazing interactive displays and guided tours, the Thai Hua Museum is a must-see for anyone interested in history and culture.
Experience the Phuket's Vibrant Nightlife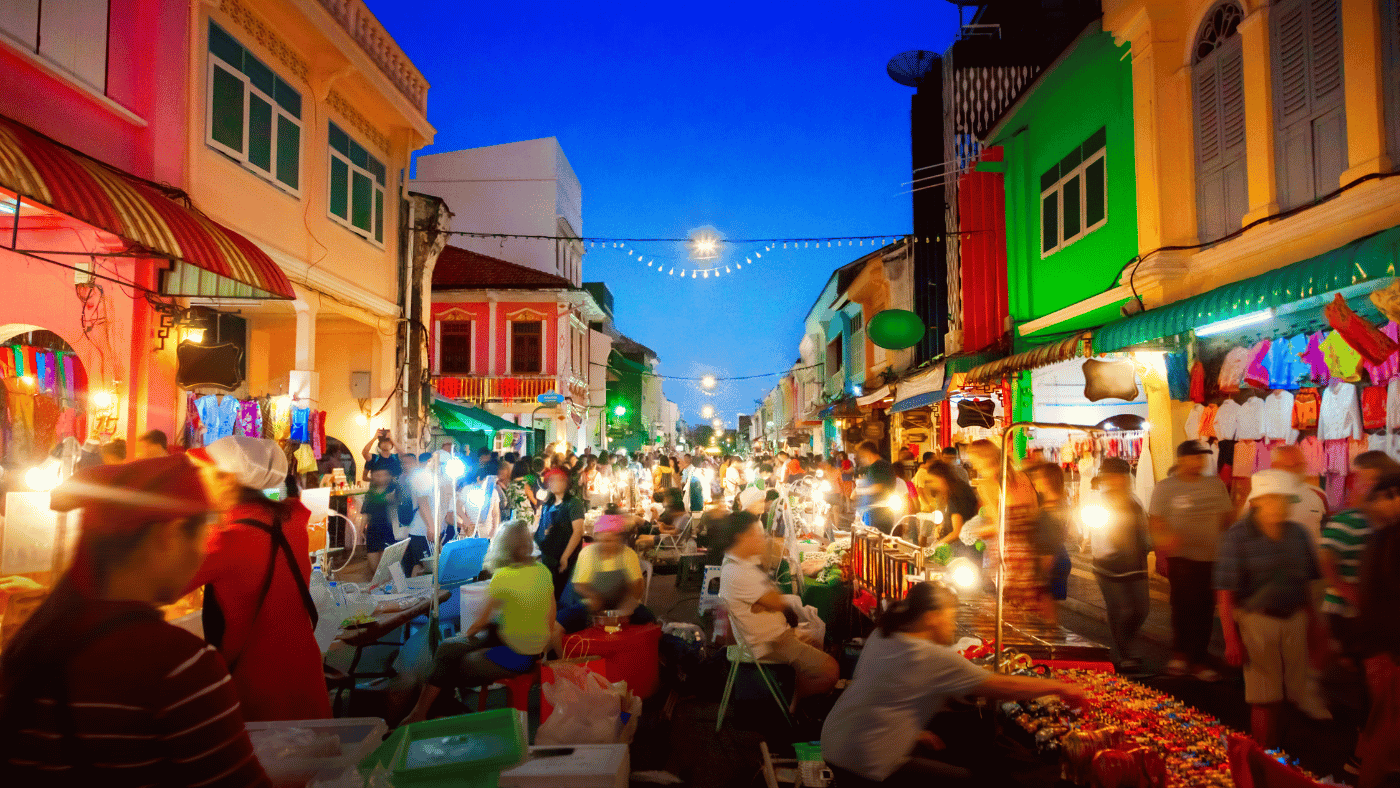 Phuket is as famous for its nightlife as it is for its picturesque beaches. From lively bars to dazzling shows, there are plenty of options to keep you entertained through the night.
Bangla Road
Bangla Road is the epicenter of nightlife in Phuket. The street comes to life at night, with neon lights and loud music from the numerous bars and nightclubs. The lively atmosphere and friendly people make it an unforgettable experience.
Beach Clubs and Bars
The beaches of Phuket also boast some fantastic beach clubs and bars. The clubs are chic and luxurious, with some of the best DJs and live music in Thailand. Grab a cocktail, sit back, and enjoy the stunning views that the clubs have to offer.
Phuket FantaSea Show
If you're looking for a unique and memorable experience, the Phuket FantaSea show is certainly one to add to your list. This cultural show features elaborate costumes, impressive special effects, and a cast of hundreds. The show celebrates the history and culture of Thailand in the most spectacular way possible.
Embark on Island Hopping Adventures
Phuket is surrounded by an archipelago of islands, each with their unique charm and beauty. Take a break from the beaches and explore some of these stunning islands on a day trip or longer excursion.
Phi Phi Islands
The Phi Phi Islands are perhaps the most popular island destination in Thailand, and for a good reason. With cascading waterfalls, stunning lagoons, and pristine beaches, it's no surprise that this island has been the backdrop for many Hollywood movies.
Similan Islands
The Similan Islands are a nature lover's paradise, with outstanding coral reefs and clear blue waters. The islands are teeming with marine life, making it an excellent spot for snorkeling and diving. If you're lucky, you may even spot some sea turtles and whale sharks!
James Bond Island
Finally, James Bond Island is a must-see attraction, thanks to its iconic rocky outcrop that served as a backdrop in the classic movie 'The Man with the Golden Gun'. Situated in Phang Nga Bay, the island boasts stunning views and a plethora of water activities like kayaking and swimming.
In Conclusion
Phuket is undoubtedly a holiday destination that is packed with incredible attractions and experiences that will create lifelong memories. Its natural beauty, rich culture and buzzing nightlife are indeed a testament to the grandeur of Thailand. Plan yourself a trip to Phuket today and enjoy the amazing island for yourself!