Exploring Hua Hin
Introduction to Hua Hin
Located on the pristine shores of the Gulf of Thailand, Hua Hin is a captivating coastal town that offers a perfect blend of tranquility and vibrant city life. As one of Thailand's most beloved tourist destinations, Hua Hin has become a haven for travelers seeking a luxurious and unforgettable experience.
Renowned for its stunning beaches, crystal-clear waters, and warm hospitality, Hua Hin attracts visitors from all over the world. The town boasts a rich history and a unique charm that sets it apart from other beach destinations in Thailand. With its idyllic setting, Hua Hin provides a serene escape from the hustle and bustle of everyday life.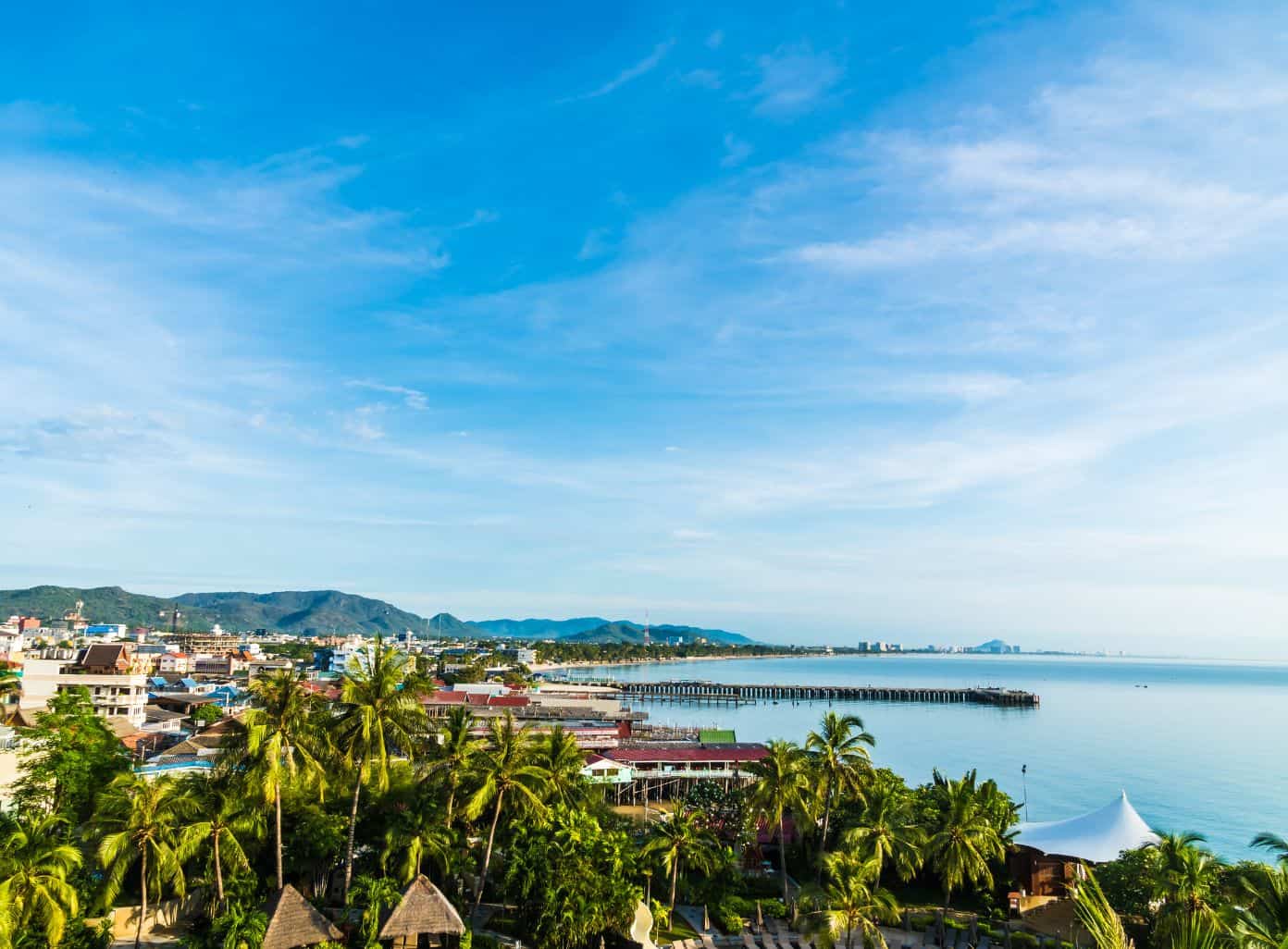 Why Hua Hin is a Popular Tourist Destination
Hua Hin's popularity as a tourist destination can be attributed to a multitude of factors. Firstly, its pristine beaches are truly breathtaking, offering visitors a chance to relax, unwind, and soak up the sun. Hua Hin Beach, in particular, stretches for miles and provides the perfect backdrop for a leisurely stroll or a refreshing swim.
Beyond the beach, Hua Hin offers a range of attractions and activities to suit every traveler's interests. The town is home to numerous luxury resorts, where guests can indulge in world-class amenities and exceptional service. For those seeking adventure, Hua Hin offers opportunities for golfing, snorkeling, kayaking, and even wildlife encounters. The town is also famous for its vibrant nightlife, bustling markets, and delectable street food.
Hua Hin's appeal extends beyond its natural beauty and recreational offerings. The town boasts a rich cultural heritage, with temples that reflect its historical significance. The Hua Hin Railway Station, a charming and well-preserved structure, is another noteworthy attraction that showcases the town's past.
With its favorable weather throughout the year, Hua Hin is an ideal destination for a vacation or a quick getaway. Whether you're looking for a romantic escape, a family-friendly adventure, or a solo retreat, Hua Hin offers something for everyone.
As you plan your visit to Hua Hin, take the time to explore the various activities, attractions, and accommodations available. From boutique hotels to luxurious villas, Hua Hin caters to a wide range of preferences and budgets. For a comprehensive guide to Hua Hin's accommodations and other travel tips, visit our article on Hua Hin hotels.
Immerse yourself in the beauty and luxury of Hua Hin, where indulgence and relaxation converge to create an unforgettable experience.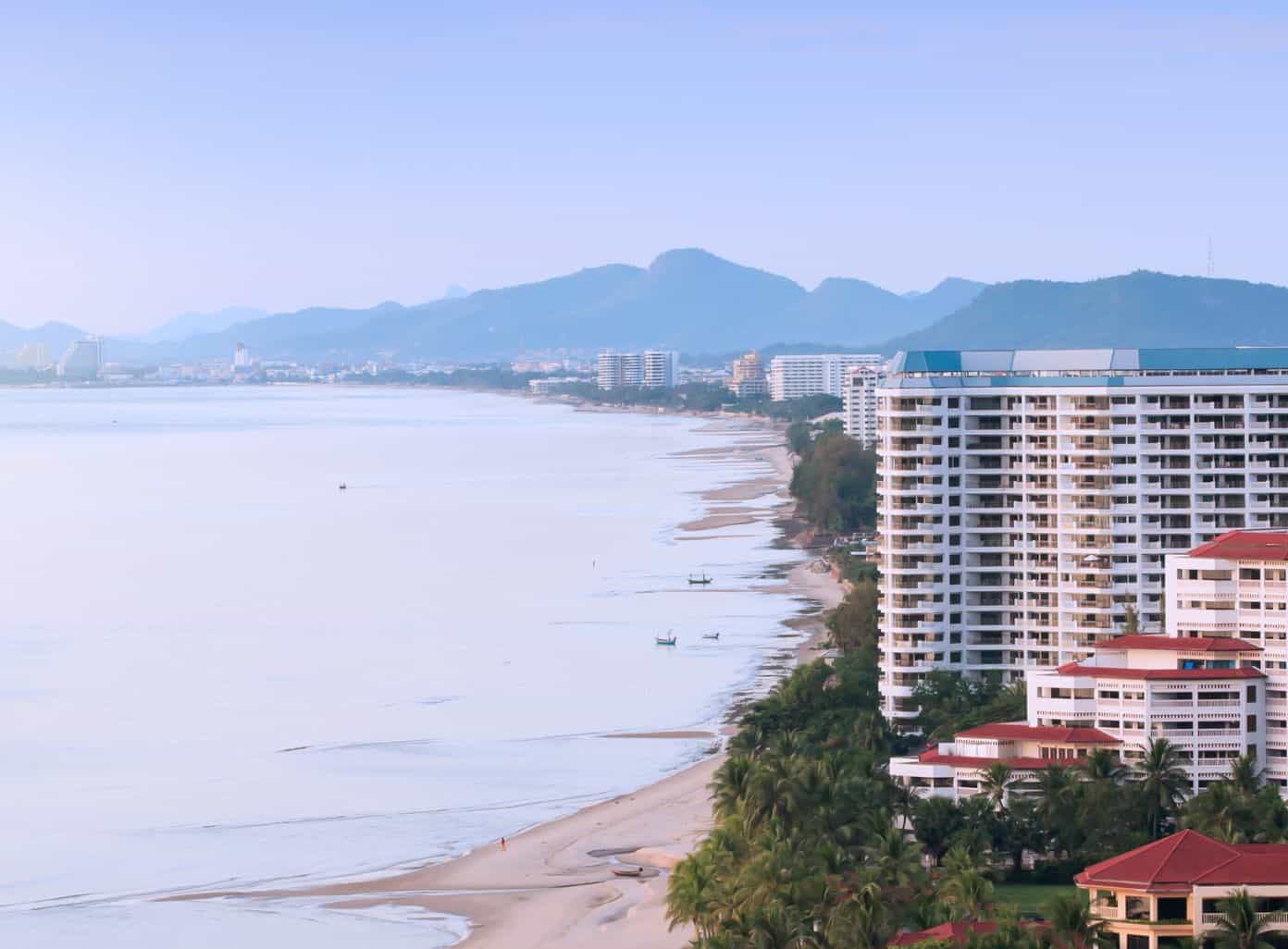 The Luxury Resort Scene in Hua Hin
When it comes to luxury accommodations, Hua Hin is home to a wide array of exquisite resorts that cater to the discerning traveler. Whether you're seeking a beachfront retreat or a secluded haven surrounded by nature, Hua Hin has something to offer for every taste. In this section, we will provide an overview of the luxury resorts available in Hua Hin and explore what sets them apart.
Overview of Luxury Resorts in Hua Hin
Hua Hin boasts a collection of luxury resorts that combine opulence with impeccable service. These resorts offer a range of amenities and facilities, including sprawling swimming pools, private beach access, world-class spas, and fine dining experiences. With their stunning architecture and lush landscapes, these resorts create an atmosphere of tranquility and indulgence.
Each resort has its own unique charm and distinctive features, allowing guests to choose an experience that aligns with their preferences. From boutique resorts that offer personalized service to expansive beachfront properties with a wide range of recreational activities, Hua Hin has options to suit various luxury-seeking travelers.
To make the most informed decision, consider factors such as the location, proximity to attractions, available amenities, and the overall atmosphere of the resort. It's also worth exploring the different room types available, as some resorts offer luxurious villas or suites that provide an extra level of privacy and comfort. For a comprehensive list of resorts in Hua Hin, refer to our article on Hua Hin hotels.
What Sets Hua Hin's Luxury Resorts Apart
What sets Hua Hin's luxury resorts apart is their commitment to providing an unforgettable experience for their guests. The renowned Thai hospitality shines through in every aspect, from the warm welcome upon arrival to the attention to detail throughout the stay.
One of the distinguishing features of these resorts is their dedication to creating a harmonious blend of luxury and nature. Many resorts in Hua Hin take advantage of the region's natural beauty, featuring lush gardens, panoramic ocean views, and serene surroundings. This allows guests to immerse themselves in the tranquility of their surroundings while enjoying world-class amenities.
The culinary offerings at these luxury resorts are also exceptional. With a focus on using fresh, locally sourced ingredients, the resorts offer a variety of dining options ranging from traditional Thai cuisine to international flavors prepared by renowned chefs. Guests can indulge in gourmet meals while taking in breathtaking views or enjoying a romantic beachside dinner.
Whether you're seeking relaxation, adventure, or a combination of both, Hua Hin's luxury resorts deliver an experience that surpasses expectations. From rejuvenating spa treatments to personalized excursions, these resorts go above and beyond to ensure that guests have a truly memorable stay in Hua Hin.
In the next section, we will delve into some of the most coveted resorts in Hua Hin, highlighting their unique features and highlights that make them stand out among the rest.
Coveted Resorts in Hua Hin
Hua Hin is renowned for its luxury resorts that offer an exceptional experience for travelers seeking the ultimate indulgence. In this section, we will highlight three coveted resorts in Hua Hin, each with its own unique features and highlights.
Resort 1: Features and Highlights
Resort 1 is a haven of luxury and relaxation, nestled along the stunning coastline of Hua Hin. With its private beach access and breathtaking ocean views, this resort offers an idyllic setting for a truly memorable stay. The resort boasts spacious and elegantly designed rooms and suites, complete with modern amenities and world-class service.
Guests can unwind by the infinity pool overlooking the sea or indulge in a rejuvenating spa treatment at the on-site wellness center. For those looking to stay active, the resort offers a state-of-the-art fitness center and a range of recreational activities, including golf at nearby courses.
Dining at Resort 1 is a culinary delight, with multiple restaurants serving a variety of cuisines, from traditional Thai dishes to international fare. The resort also offers a range of luxurious amenities, including a beachfront bar, a lounge, and meeting facilities for business travelers.
Resort 2: Features and Highlights
Resort 2 is a true paradise for those seeking an exquisite escape in Hua Hin. Surrounded by lush tropical gardens, this resort offers a serene ambiance and a seamless blend of traditional Thai architecture with modern comforts. The well-appointed rooms and villas feature elegant furnishings and offer views of the landscaped gardens or the ocean.
Guests can indulge in a range of recreational activities, including snorkeling, kayaking, and yoga sessions. The resort also offers a world-class spa where guests can pamper themselves with a variety of relaxing treatments. The swimming pool is a tranquil oasis, perfect for a refreshing dip or lounging under the sun.
Culinary experiences at Resort 2 are exceptional, with several dining options that showcase both local and international flavors. Guests can enjoy poolside dining, a beachfront restaurant, or even savor a private romantic dinner under the stars. The resort also offers a bar where guests can unwind with a refreshing cocktail.
Resort 3: Features and Highlights
Resort 3 is a true gem in the luxury resort scene of Hua Hin. With its contemporary design and unparalleled amenities, this resort offers an extraordinary experience for discerning travelers. The spacious and stylishly appointed rooms and suites provide a comfortable retreat for guests to relax and unwind.
The resort boasts an impressive array of facilities, including multiple swimming pools, a private beach, and a world-class fitness center. Guests can also indulge in a variety of wellness treatments at the spa or participate in yoga and meditation classes. For those seeking adventure, the resort offers water sports and golf opportunities.
Dining at Resort 3 is a culinary journey, with several restaurants offering an array of international and local cuisines. Guests can enjoy gourmet meals prepared by renowned chefs, complemented by spectacular views of the surroundings. The resort also features a bar where guests can unwind and enjoy a selection of beverages.
These coveted resorts in Hua Hin are a testament to the city's reputation for providing exceptional luxury experiences. Whether you're seeking tranquility, adventure, or indulgence, these resorts offer the perfect retreat for an unforgettable stay in this coastal paradise.
Choosing the Right Resort for You
When it comes to selecting a luxury resort in Hua Hin, it's essential to consider several factors to ensure a memorable and enjoyable stay. Here are some key factors to consider when choosing the right resort for you:
Location: Take into account the resort's proximity to the attractions and activities you plan to explore during your stay in Hua Hin. Whether you prefer a beachfront resort or one nestled amidst lush greenery, consider the convenience and ambiance that best suits your preferences.
Amenities and Facilities: Evaluate the amenities and facilities offered by different resorts. Some may have an extensive spa and wellness center, multiple swimming pools, fitness facilities, or even private beach access. Determine which amenities are important to you and align with your vacation goals.
Room Types and Sizes: Assess the variety of room types available, including suites, villas, or private residences. Consider the size and layout of the rooms to ensure they meet your accommodation needs and provide the desired level of comfort.
Dining Options: Check the resort's dining options, including the variety of restaurants and cuisines available. If you have specific dietary preferences or restrictions, ensure that the resort can accommodate them.
Reviews and Ratings: Read reviews and ratings from previous guests to gain insights into their experiences. Websites and travel platforms often provide valuable information and honest feedback that can help you make an informed decision.
Price and Value: Consider your budget and compare the prices of different resorts. Keep in mind that the price may vary based on the season and the level of luxury provided. Assess the value you receive for the price and determine if it aligns with your expectations.
Once you've selected the perfect resort, it's time to make the most of your stay in Hua Hin. Here are a few tips to enhance your experience:
Take advantage of the resort's facilities and services, such as spa treatments, fitness classes, or organized tours.
Explore the surrounding area and immerse yourself in the local culture by visiting popular attractions, such as the Hua Hin Night Market or Hua Hin Temples.
Indulge in the local cuisine and try out different Hua Hin restaurants and street food stalls.
Engage in outdoor activities, such as snorkeling, kayaking, or wildlife watching, to fully experience the natural beauty of Hua Hin.
Seek recommendations from the resort's concierge or staff for personalized suggestions and insider tips to enhance your stay.
By considering these factors and making the most of your time in Hua Hin, you can ensure a truly memorable and luxurious experience at the resort of your choice.