If you are seeking a truly exhilarating experience in Bangkok, look no further than the Vertigo Rooftop Bar. Situated atop the Banyan Tree Hotel, this iconic bar offers breathtaking panoramic views of the city while serving up delicious food and refreshing drinks. In this article, we will take you on a journey through the various aspects that make Vertigo an unmissable destination.
Introduction to Vertigo Rooftop Bar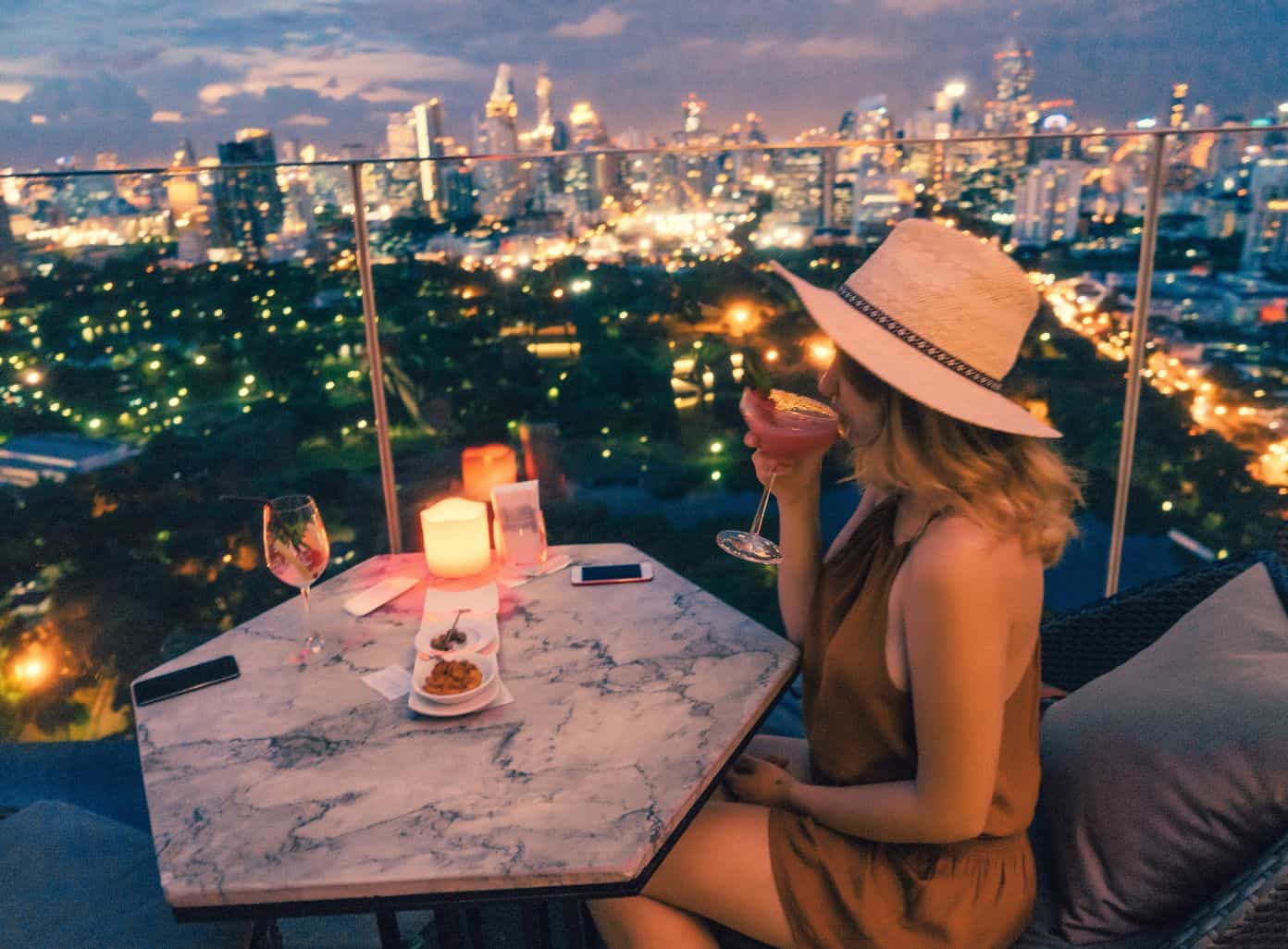 Welcome to Vertigo Rooftop Bar, a place where sophistication meets excitement. Perched on the 61st floor of the Banyan Tree Hotel, Vertigo offers a dining and drinking experience like no other. With its open-air concept and luxurious setting, this rooftop bar provides an unforgettable night out in the heart of Bangkok.
Imagine stepping into a world where the sky is your ceiling and the city lights are your backdrop. Vertigo Rooftop Bar takes your breath away with its breathtaking views of the vibrant Bangkok skyline. Located on the rooftop of the tallest hotel in the city, Vertigo offers a truly unique experience that will leave you in awe.
The Unique Location of Vertigo
One of the most striking features of Vertigo is its extraordinary location. It is situated on the rooftop of the tallest hotel in the city, allowing guests to indulge in 360-degree views of the bustling Bangkok skyline. The feeling of being high above the city creates a sense of awe and wonder that is hard to replicate elsewhere.
As you ascend to the 61st floor of the Banyan Tree Hotel, you can feel the anticipation building. The elevator doors open, and you step out onto the rooftop, greeted by a breathtaking panoramic view that stretches as far as the eye can see. The cityscape unfolds before you, with its towering skyscrapers, winding rivers, and bustling streets. It's a sight that will leave you speechless, as you realize that you are standing on top of the world.
The Vertigo Rooftop Bar Atmosphere and Ambiance
As you step foot into Vertigo, you will be greeted by a sophisticated and glamorous ambiance. The bar's elegant design, featuring plush seating and dimmed lighting, creates an atmosphere of exclusivity and indulgence. Whether you are seeking a romantic evening or a lively night with friends, Vertigo caters to all preferences.
The sound of laughter and clinking glasses fills the air as guests mingle and enjoy the vibrant atmosphere. The soft glow of candlelight illuminates the faces of the patrons, creating an intimate and romantic setting. The plush seating invites you to sink in and relax, as you sip on a signature cocktail crafted by the talented mixologists. The music playing in the background sets the mood, creating the perfect backdrop for an unforgettable night.
Vertigo Rooftop Bar is not just a place to have a drink or a meal, it's an experience that captivates all your senses. The combination of the stunning views, the luxurious ambiance, and the impeccable service creates a night to remember. Whether you're celebrating a special occasion or simply looking to enjoy a night out in Bangkok, Vertigo Rooftop Bar promises to deliver an experience that will leave you wanting more.
The Exquisite Food and Drinks at Vertigo
Vertigo takes pride in its culinary offerings. The menu features an array of mouthwatering dishes and innovative cocktails that will titillate your taste buds.
Signature Cocktails to Try
When it comes to drinks, Vertigo does not disappoint. Their expert mixologists have crafted a wide selection of signature cocktails that are both visually stunning and bursting with flavor. From classic concoctions to creative twists, there is something to suit every palate.
Gourmet Dishes on the Menu
Complementing the extensive drinks menu is an equally impressive selection of gourmet dishes. Vertigo's culinary team strives to deliver an unforgettable dining experience by offering a variety of cuisines, from succulent seafood to tender steaks. Each dish is meticulously prepared to satisfy even the most discerning food connoisseur.
The Breathtaking Views from Vertigo
No visit to Vertigo would be complete without taking in the mesmerizing views that await you.
Overlooking the Bangkok Skyline
As you sit back and relax at Vertigo, you will be treated to awe-inspiring views of the entire Bangkok skyline. The twinkling lights and towering buildings create a stunning backdrop, making Vertigo the perfect spot to capture unforgettable memories or simply admire the beauty of the city.
Night Views Vs Day Views
Whether you choose to visit during the day or at night, Vertigo offers a completely different visual experience. During the day, you can marvel at the immense expanse of the city and the vibrant colors that surround it. At night, the city transforms into a sea of shimmering lights, casting an enchanting glow that will leave you speechless.
Events and Special Nights at Vertigo
Vertigo is not only a place to enjoy great food and stunning views, but it also hosts a variety of events and themed nights to elevate your experience.
Live Music Nights
Immerse yourself in the rhythm of the night with Vertigo's live music nights. Talented musicians take the stage, providing a soulful backdrop as you sip on your cocktail and soak in the mesmerizing ambiance. Let the music move you and enhance your evening at Vertigo.
Themed Parties and Events
Vertigo loves to celebrate special occasions and often throws themed parties and events to add a touch of excitement to the mix. Whether it's a Halloween party or a New Year's Eve extravaganza, these events are designed to create memorable experiences for everyone in attendance.
Practical Information for Visitors
If you are planning a visit to Vertigo, there are a few practical considerations to keep in mind.
Dress Code and Reservation Tips
Vertigo maintains a smart-casual dress code, so be sure to dress appropriately for your night out. Additionally, due to its popularity, it is advisable to make a reservation in advance to secure a table and avoid any disappointment.
How to Get There
Vertigo is conveniently located in the heart of Bangkok, making it easily accessible by both public transportation and private vehicles. The Banyan Tree Hotel is a well-known landmark, and the rooftop bar can be reached via the hotel's dedicated elevator.
In conclusion, Vertigo Rooftop Bar provides an unrivaled experience for those seeking a combination of breathtaking views, delightful cuisine, and a vibrant atmosphere. It is a must-visit destination for anyone looking to create lasting memories in the dazzling city of Bangkok.