If you're searching for an authentic Thai experience, the Damnoen Saduak Floating Market is an enchanting destination that should be on your travel itinerary. This vibrant market is located in the Ratchaburi province, around 100 kilometers southwest of Bangkok. The bustling market spreads across the canal, and vendors trade their goods from boats, creating an atmosphere that is unique and unforgettable. In this article, we'll take a deeper look at the history of this market, how to get there, navigating the market, must-try foods and drinks, and shopping for souvenirs and handicrafts.
A Brief History of Damnoen Saduak Floating Market
Origins and Purpose
The Damnoen Saduak Floating Market originated over a hundred years ago during the reign of King Rama IV. The king ordered the construction of a canal system that would connect the Mae Klong and Tha Chin rivers, which would serve as a transportation system for farmers to take their produce to markets. The farmers who lived along the canal soon realized that the easiest way to trade their goods was to do it from their boats, and the floating market was born.
As the market grew in popularity, it became a hub for local commerce and trade. Farmers from the surrounding areas would come to the market to sell their produce, and buyers from all over Thailand would come to purchase it. The market was not only a place for buying and selling goods, but also a place for socialization and community building.
The Market's Evolution Over Time
Over the years, the Damnoen Saduak Floating Market has evolved into a popular destination for tourists and locals alike. The market has become larger, more diverse, and has incorporated modern technology into its business practices. However, it has still maintained its essence as an authentic Thai floating market, and its unique character continues to charm visitors from all over the world.
Today, the market offers a wide range of products, from fresh fruits and vegetables to handmade crafts and souvenirs. Visitors can also enjoy traditional Thai food and snacks, such as pad thai and coconut ice cream, from the many food vendors that line the canal.
Despite its popularity, the market has faced challenges in recent years. The increasing number of tourists has put a strain on the market's infrastructure, and there have been concerns about the environmental impact of the boats and vendors on the canal. However, efforts are being made to address these issues and ensure that the market can continue to thrive for years to come.
Overall, the Damnoen Saduak Floating Market is a unique and fascinating destination that offers a glimpse into Thailand's rich history and culture. Whether you're a local or a tourist, a visit to the market is sure to be a memorable experience.
How to Get to Damnoen Saduak Floating Market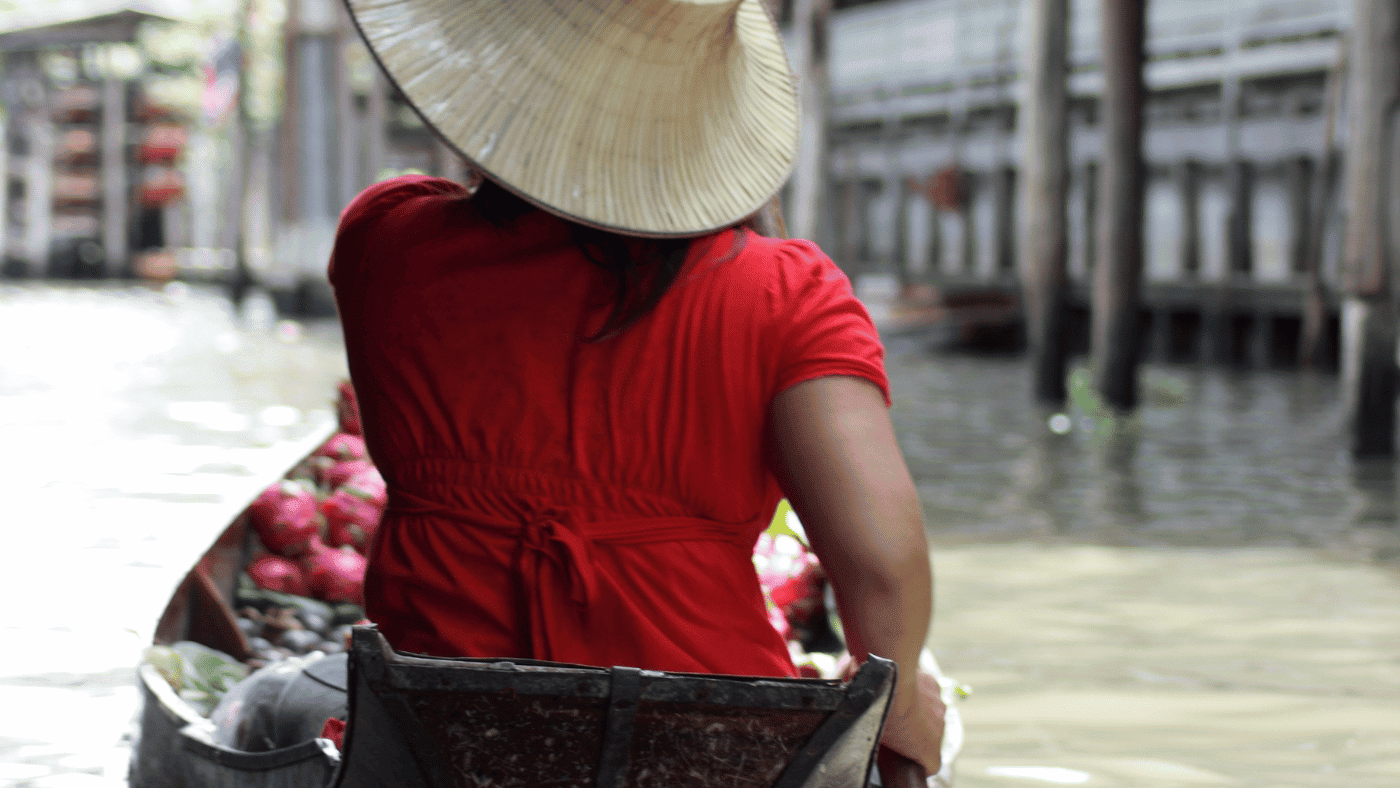 Transportation Options
If you're traveling from Bangkok, the easiest way to get to Damnoen Saduak Floating Market is by hiring a taxi or taking a private tour. Alternatively, there are local buses that run from Bangkok's Southern Bus Terminal to the market. Once you arrive at the market, you'll need to hire a boat to explore the canal and the market further.
Best Time to Visit
The Damnoen Saduak Floating Market is open all year round, but the best time to visit is early in the morning when the market is at its most active. The market starts at around 7 am and tends to get crowded by the afternoon.
Navigating the Market
Renting a Boat
The best way to experience the Damnoen Saduak Floating Market is by renting a boat. The boats are operated by local vendors who will take you through the market and give you a closer look at the variety of goods on offer along the canal. The ride lasts around an hour, and you'll get to see the local culture and way of life along the way.
Exploring on Foot
If you prefer to explore the market on foot, you can walk on the narrow paths that surround the canal and watch the vendors trade from their boats. Be prepared to bargain with the vendors as prices are often negotiable.
Tips for First-Time Visitors
Bring cash with you as credit cards are not accepted at the market. Dress light as the market can get hot and humid. Don't forget to bring a camera to capture the colorful scene and the unique ambiance of the floating market. Make sure to try the local food as it is a highlight of the experience.
Must-Try Foods and Drinks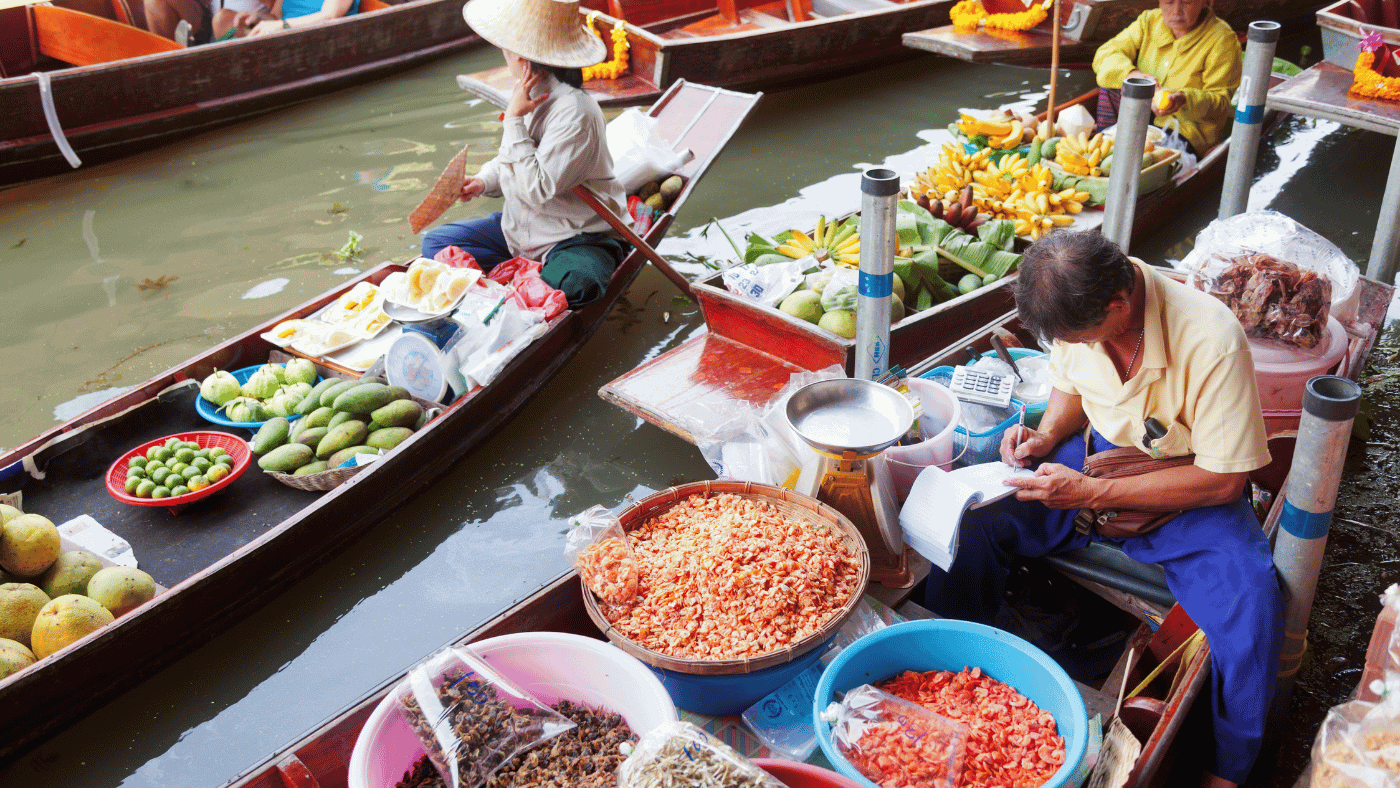 Traditional Thai Dishes
The Damnoen Saduak Floating Market is renowned for its food and drinks. You'll find many vendors selling traditional Thai cuisine such as Pad Thai, Tom Yum soup, and green curry. There are also many different types of Thai desserts and snacks available for you to try.
Refreshing Beverages
The market is also famous for its refreshing tropical drinks such as coconut water, fresh juices, and Thai iced tea. These drinks are perfect for the hot and humid weather, and they are a great way to refresh yourself while exploring the market.
Unique Market Specialties
One of the unique specialties of the Damnoen Saduak Floating Market is the boat noodle soup. This delicious dish is served from boats, and you can watch the vendors prepare it while you sit on the canal's edge. The market is also a great place to find exotic fruits, spices, and herbs that you may not find anywhere else.
Shopping for Souvenirs and Handicrafts
Artisanal Products
If you're looking for souvenirs and handicrafts, the Damnoen Saduak Floating Market is an excellent place to shop. You'll find vendors selling traditional Thai clothing, scarves, and hats, as well as handmade jewelry, ceramics, and artwork. These artisanal products make for unique and memorable keepsakes.
Clothing and Accessories
You'll also find a wide variety of clothing and accessories available at the market, from vintage clothing to modern fashion. If you're looking for bargains, be sure to bargain with the vendors to get the best deals on your purchases.
Local Delicacies to Bring Home
If you're looking to bring home some local delicacies, the market is a great place to purchase exotic Thai spices, sauces, and herbs. You can also find dried fruits, nuts, and other snacks that make for great gifts for friends and family back home.
Conclusion
The Damnoen Saduak Floating Market is a unique and enchanting destination that offers visitors a glimpse into Thai culture and way of life. With its fascinating history, diverse selection of goods, and bustling atmosphere, this market is a must-visit if you're traveling to Thailand. Use this guide to plan your trip, and prepare to be amazed by the sights, sounds, and flavors of this remarkable floating market.